Exactal CostX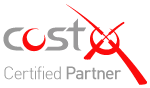 DFourInc is a CostX Certified Partner
(www.exactal.com/clients/certified-partners).
CostX® estimating software is produced by Exactal. The system is sold into over 45 countries around the world. CostX® supports a range of different features, some of which are listed below:
Supports scanned, PDF or CAD drawings and 3D/BIM models – all without the need to buy CAD software.
Supports BIM by using digital design data to accurately estimate quantities and costs.
Powerful spreadsheet based workbooks are live-linked to the drawings.
Codes & zones allow work to be sorted & regrouped.
Report writer produces customized professional reports.
Unique revision mode compares drawings and highlights the changes to identify revisions and update quantities.
Subcontractor comparison workbooks can be generated with associated reports.
Network capabilities allow multiple users to work on the same project at once.
Free CostX® Viewer allows others to view your estimates and reports without paper copies.
The combination of the above features makes CostX the complete estimating solution.
In addition, iConstruct have produced a direct export into CostX. With the combination of iConstruct and CostX, it has never been easier to estimate costs from Navisworks models.
For further information regarding CostX please visit the Exactal website- www.exactal.com